York Dragway - Easter Monday 2003
Full size files available upon request.
Mark had his camera with him all day, and has a much better selection of pictures than the few here.
My first run down the strip...
The fastest car on the day
But it is basically a jet engine on wheels :-) Very fast though, did the 1/4 mile in 4.6s and was doing 173mph when it crossed the finish! Very noisy too.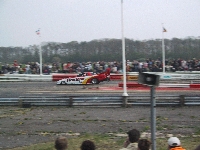 You can't beat a good musclecar